Dr. Helena McMahon, who has a background in molecular medicine and biotechnology, sat down with us at Her.ie to explain the remarkable potential hidden within the unassuming seaweed plant used in the Seabody beauty range.
Seaweed has long been celebrated as a superfood, but Dr. Helena reveals it's not just its vitamins and minerals that make it a powerhouse – "it's the other 99% of the plant", which is brimming with extraordinary molecules.
She explains to Her.ie: "Lots of people think that it's the vitamins and minerals that make seaweed a superfood, but actually they're only one per cent of the plant and it's the other 99% that actually give it it's superpowers and that's why people who live in the blue zones that eat lots of seaweed have you know great longevity and have really good health and wellness."
Seabody's innovation lies in their clean processing technology, which Dr. Helena says; disassembles the seaweed plant to unleash these incredible molecules, concentrating them into potent products. The result? High-potency bioactives that work wonders for your skin, gut health, and overall wellness.
"We figured out how to unlock all of those molecules using clean processing technology.
"So we actually developed a lot of intellectual property or IP in the form of bioprocessing technologies that can basically disassemble the seaweed plant, release all of those amazing molecules, concentrate them down and put them into products."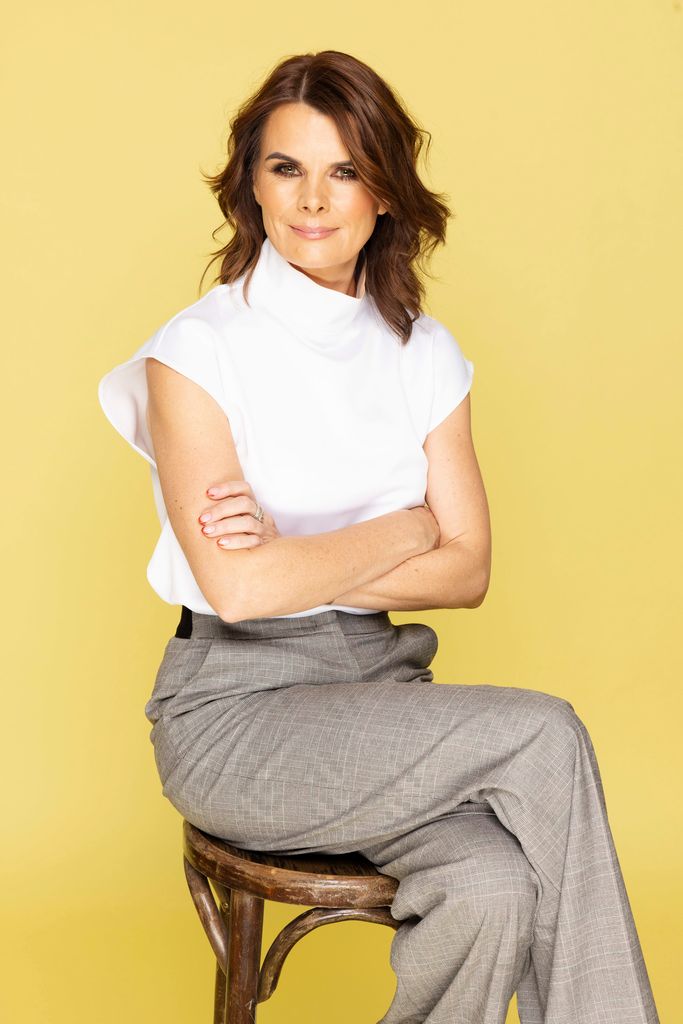 What sets Seabody apart is their dedication to data-driven efficacy. With substantial investments in Research and Development, they scientifically validate that their bioactives work at the cellular level. This commitment to scientific diligence makes Seabody a unique brand, ensuring you experience real results.
"We're a data-led company," she explained, "so we have put millions of euros into Research and Development to really scientifically validate that the bioactives that we have (our ingredients) actually work at the cellular level and I think that's very very unique in terms of creating a seaweed brand that is efficacy led and then also we're very strong on sustainability because the processing technology that we developed is zero waste so we use 100% of the plant.
"We don't use any harsh chemicals in our extraction methodology. So that's really good for the environment," Dr. Helena went on to say.
Sustainability is a core value for Seabody
Their zero-waste processing technology, using 100% of the plant and avoiding harsh chemicals, is an eco-friendly approach that aligns with today's conscious consumers. Their products maintain the bioactives' natural integrity, thanks to their chemical-free extraction methods, making Seabody a tech-powered luxury brand with a green heart.
Seabody sources seaweed from the pristine waters of the Atlantic Ocean, known for its unique properties. When applied to skin cells, the results are impressive – regeneration, increased collagen, elastin, and hydration, along with protection against sun-induced pigmentation and antioxidant benefits.
"The seaweed that we use have got particular properties and characteristics because of the temperature and the cleanliness of the Atlantic ocean where these plants grow so we work with harvesters from Donegal down to Kerry.
"We also grow our own seaweed in the Atlantic ocean, so we've got seaweed farms there and it's the temperature and the cleanliness of the water that gives it these particular properties."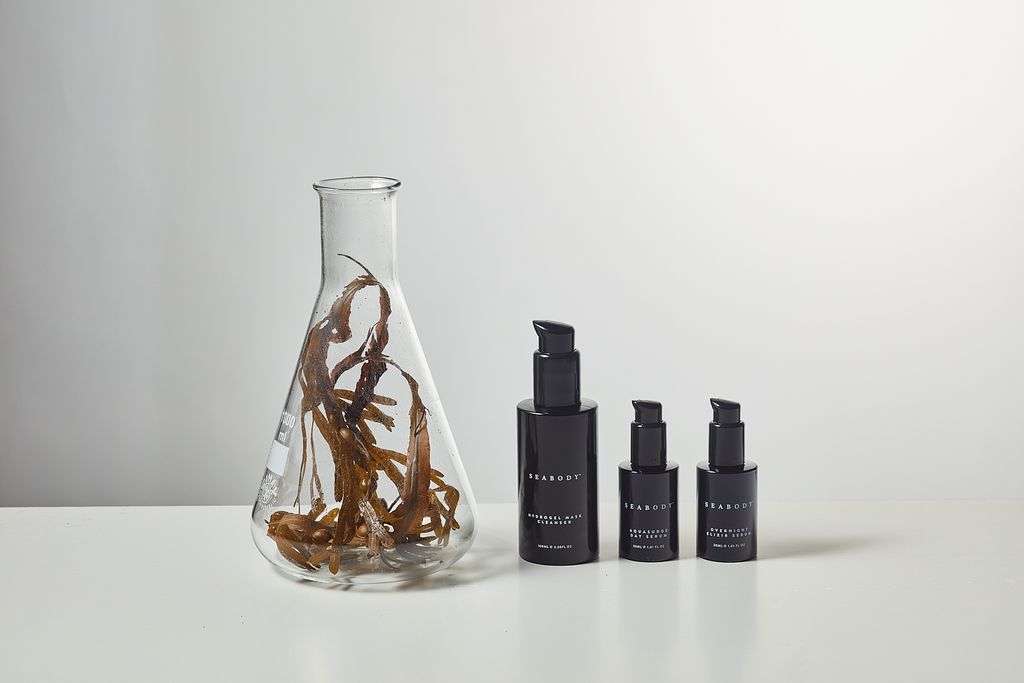 In a world increasingly aware of supply chain ethics and personal values, Seabody shines bright. Their products are environmentally safe, toxin-free, and vegan-friendly, aligning seamlessly with many people's values and lifestyle choices.
Dr. Helena McMahon designed a core range of skincare with complex formulations targeting hydration, the skin matrix, and antioxidant benefits suitable for all skin types. As the brand evolves, 2024 promises additional boosters and concentrates to enhance the range.
Seabody's hero ingredient, Mariderm, and prebiotic support the skin's microbiome, soothing redness, reducing sensitivity, and restoring the skin barrier. The result? Hydrated, radiant, and smooth skin.
"When I designed the formulations for seabody skincare, I really wanted to create a core range that was very concise and considered so it's suitable for all skin types and what I've done is I've looked at the skin as a system.
"Lots of products out there kind of maybe have one ingredient in the formulations that is an active but I have create very complex formulations and can target concerns like hydration the skin matrix – so making your skin really bouncy with the collagen – and the elastin and you know delivering antioxidant benefits so each product stands on its own and they're suitable for all skin types, so it's a great foundation skincare regime to have."
This luxury Irish brand has been making waves in the industry and even won the Best Beauty Brand in the Guaranteed Irish portfolio of products and showcasing its Irish roots. Yet, their internationalization strategy is already in full swing, with plans to enter the UK and US markets, thanks to their story of innovation and luxury.
Seabody Skincare's remarkable journey culminated in their victory at the John Bell & Croyden 270-year anniversary prize, earning them a place in the UK market. Their commitment to quality, efficacy, and luxury has set them on a path to global recognition and success.
The range of Christmas sets available give new and existing customers a great chance to try out the hero products and make some all-important savings.
So whether you plan on treating yourself, or purchasing for a loved one, there is something there for the skincare lover in your life this Christmas.
Discover €65 – Unwrap the beauty within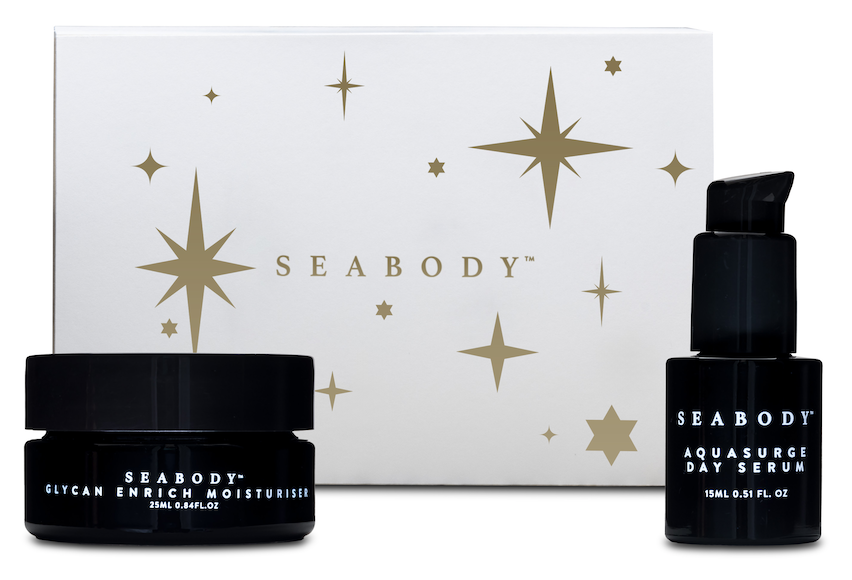 This exclusive set contains two of SEABODY's hero products powered by ingredients selected for their efficacy in brand new midi-sizes – the ultra-hydrating Aquasurge Day Serum and Glycan Enrich Moisturiser that reduce the appearance of fine lines and wrinkles.
1 x SEABODY Glycan Enrich Moisturiser 25ML
1 x SEABODY Aquasurge Day Serum 15ML
Normal RRP €80, save €15
EBB & FLOW €109 – The Holiday Skin Prep Duo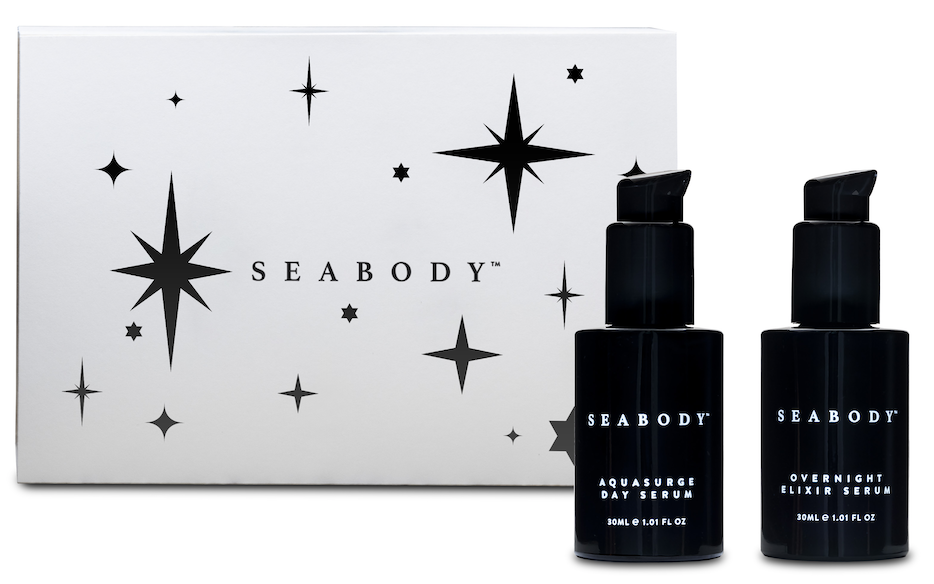 This is a set of two luxurious Seabody Serums designed to elevate your skincare routine. First in the set is the Aquasurge Day Serum, a super-hydrating formula that brightens and quenches your skin's thirst.
This hero serum, which contains Hyaluronic acid, leaves your skin looking plumper and nourished, thanks to its deep hydration properties.
The second product is SEABODY's high-tech Overnight Elixir, this innovative serum, which also contains Hyaluronic acid works its magic while you sleep to brighten, refresh and perfect your complexion.
1 x SEABODY Aquasurge Day Serum 30ML
1x SEABODY Overnight Elixir Serum 30ML
Normal RRP €132, save €23
Sea to Self €229 – Skin from within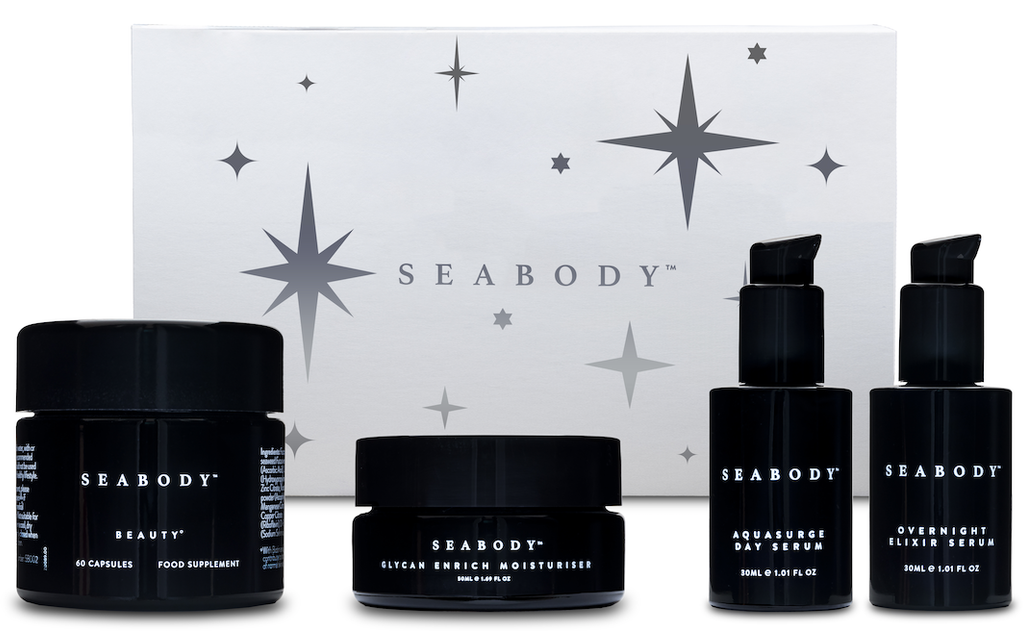 Take a full body approach to elevate your skin care routine, working from the inside out and the outside in with the Sea to Self Collection.
Renew, hydrate and brighten with this skin system containing SEABODY's Aquasurge Day Serum, Glycan Enrich Moisturiser, Overnight Elixir Serum and Beauty Food Supplement, which together support and reveal your best skin, from within.
Introducing a carefully curated selection of products that work together to enhance your skincare routine.
1 x Glycan Enrich Moisturiser 50ML
1 x Aquasurge Day Serum 30ML
1 x Overnight Elixir Serum 30ML
1 x Beauty Food Supplement (60 Capsules/2 month supply)
Normal RRP €289, save €60
READ MORE: