There's no chance of the sun coming out anytime soon.
As temperatures dip below freezing point, all we want to do is wrap ourselves up in blankets and hats and scarves and our duvets.
Within five minutes of being outside we turn into icicles and it's not very fun. Of course, we obviously have to go otu from time to time and the best way to combat being a freezing lump is by layering.
It's the oldest trick in the book but my God, is it handy. Shirts, jumpers, blazers, jackets – all layered and all keeping you warm.
However, if you want to finish off the look with a coat, we suggest you take a look at these options. They're a bit fun and a bit colourful and will make any outfit look fabulous.
Don't let the colour turn you off. This coat will bring a pop to any outfit and keep you warm at the same time. A win-win.

This style of jacket proved to be very popular last year and it looks like it's not going anywhere in 2020. While it usually comes in check, we're loving the grey hue.
You can't beat a bit of baby pink to brighten up any outfit. Suitable for the cold weather right now and for when spring returns, you'll get so many wears out of it.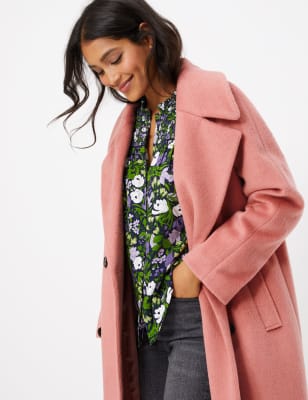 Snug as a bug in a rug. If you want something sophisticated yet cosy then this is the way to go. The utility style is very on trend and the perfect option when you're layering.
This coat comes in two colours, blue and camel but we have to say we love the brightness that the blue tone brings. Perfect if you're dressing an outfit up or down.
If you want to make a statement, this is the coat to do it in. While neon clothing has come back in a major way this year, you never really see outerwear sporting the tones. A show stopper.