Delighted.
We love when we come across a good bargain and there's nothing better than going online to shop and seeing that there's a sale on your favourite website.
River Island currently has items reduced in a seasonal sale, and with 40 percent off some gorgeous pieces, we'll definitely be doing a bit of online shopping tonight.
We came across these fab paperbag peg trousers today, and they're such a bargain after being reduced to €20.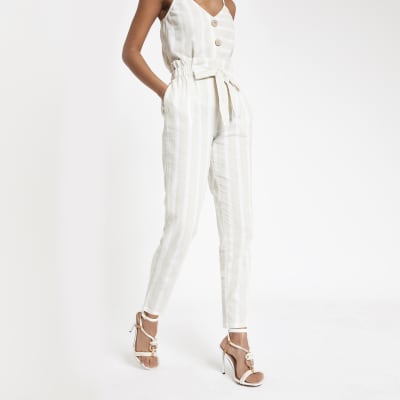 They originally came in at €37, so we're really appreciating the discount.
The trousers are perfect for summer as they're light enough so you won't be sweating and they're very office-appropriate too.
You can check them out here.
If you're shopping in River Island, make sure to check out this gorgeous dress we spotted during the week.
The maxi-length dress comes in four different colours: a black, red, gold and yellow floral print (which is our favourite of them all).
The super flattering satin-look dress features side splits and a cross cowl back.
There is a bit of bad news, though: the dress is currently only available to order online. So if you fancy ordering one of them for your next event/celebration/whatever the occasion, just make sure to factor in the delivery time.