There is fur. And then there is fur as a fashion choice.
And I'll be honest, I just don't get it. For one, why would anyone wear the real deal when there are numerous faux fur options available?
Baffling stuff.
Still, there is no denying that real fur still carries connotations of being oh-so rich and fabulous. Yup even in 2017, for the A-list, fur remains a serious status symbol.
Earlier today, we ran a news piece regarding reports that real animal fur has been found in clothing itemised as 'faux fur' in some high-street shops.
This is even more concerning because it would seem we can't say for certain whether certain 'faux-fur' items are actually faux and if this is the case, should we stay away from fur altogether?
Personally, I'm pretty fashion obsessed (always have been). However, under no circumstances would I wear a dead animal around my shoulders… no matter how many dollar bills I'm sitting on (none at the minute, FYI).
Exhibit A: Kim Kardashian has previously spoken out about her love of fur saying that people should have the choice to wear what they want. She's also been attacked on the red-carpet for her decision – having flour thrown all over her at an event in 2012.
However, after backlash from her fans, she and Kanye made the decision to only wear 'roadkill fur' with Kim explaining this reasoning in an interview with The Today Show last year:
"It's a personal choice, but I don't think it's okay to assault anyone".
In one way, Kim is right. Regardless of anyone's opinion, fur will always have a place in fashion and you only need look at the haute couture catwalks each season for evidence of that.
The Pre-Fall 2017 collections showcased fur in abundance and not just standard neutral shades either.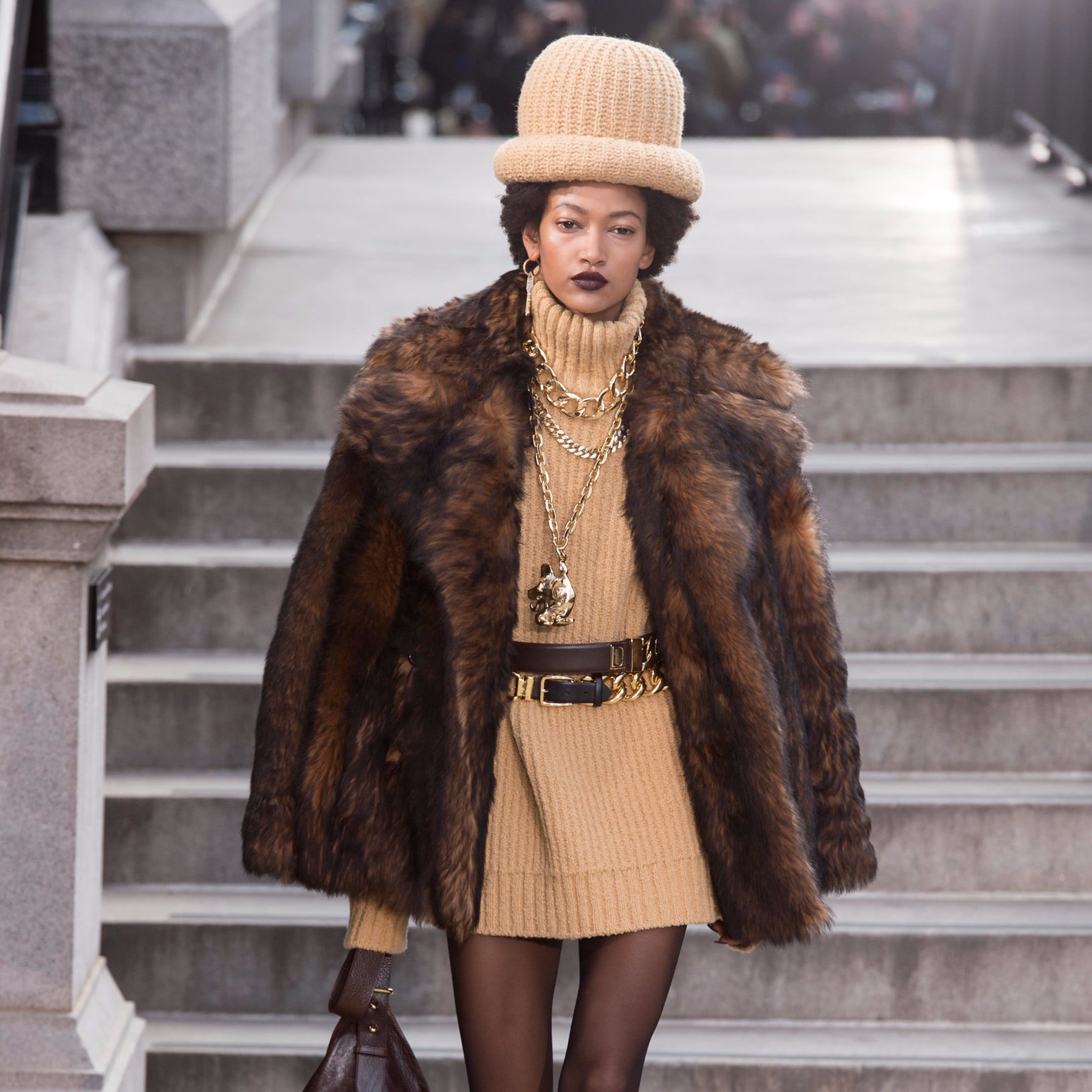 Roberto Cavalli's Pre-Fall collection was ALL about the fur – from full-fur jackets to separates with fur detail on cuffs and collars.
Fur isn't a new trend by any means, but it's how this style translates from the catwalk to our everyday wardrobes that interests me.
Karl Lagerfeld, Creative Director of Chanel and Fendi, is the master of luxury, high-end fashion that screams affluence.
Fendi celebrated its 90th anniversary last May with a stunning show held at Rome's Trevi Fountain.
The staging of the show and exquisite looks deserve to go down in fashion history but in the context of this piece, let's focus on the fact that fur was a major element.
Models wearing patterned fur capes and gowns featuring fur embellishment showed that for this particular designer, fur is absolutely here to stay.
Indeed, when it comes to fashion, Karl is God and unsurprisingly, the 83-year-old is never afraid of a little controversy.
Although I would describe myself as anti-fur (that said, I'm in love with the aforementioned Fendi show and absolutely everything about it), faux fur is fun which ultimately is what fashion is all about.
Up until today, I assumed faux fur was actually faux but not in every case it would seem. Where real animal fur has been marketed as faux fur, there are internal investigations ongoing but it seems this is a growing issue.
While we can continue to enjoy fur as a fashion trend, it seems that now more than ever, we need to be extra-vigilant about exactly what we're buying and where we're buying it from.