Happy World Pasta Day!
We're a nation of carb lovers.
From the humble spud to a good auld sliced pan – carbo-loading is a bit of sport around these parts and we would happily live on the food group if asked.
When it comes to the ultimate comfort food, however, you can't go wrong with pasta.
With over 600 known pasta shapes, there's plenty to choose from.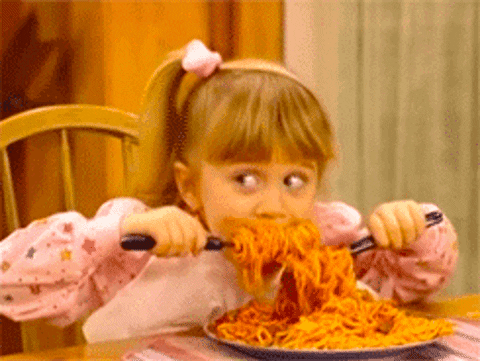 Whether you enjoy a tomato-based sauce or a simple dollop of pesto, we wouldn't say no to any bowl of pasta put in front of us.
However, we always seem to go back to the same few trusty recipes.
To celebrate the underrated holiday that is World Pasta Day, Deliveroo has conducted a little research to figure out what the nation's favourite pasta dish actually is.
Yes, the food delivery service has revealed the most popular pasta dishes ordered across Ireland and it seems Dublin, Cork and Galway have the biggest population of pasta lovers.
Most Popular Pasta Dishes in Ireland: 
Spaghetti Bolognese, Al Boschetto – Dublin

Fresh Spaghetti, The Meatball Place – Cork

Penne Salsiccia e Peperoni, Pinocchio Italian – Dublin

Pasta Pappardelle, Eco – Cork

Penne Giardiniera, Carluccio's – Dublin

Il Posto Penne Carbonara, Il Posto – Dublin

Penne Pasta with Fried Chicken & Pancetta, Mixgreens – Galway

Spaghetti Carbonara, Bel CIbo – Dublin

Roast Chicken Penne Pesto Bowl, Staple Foods – Dublin

Penne Alla Crema, Venice Restaurant – Galway