Needless to say, he had the last laugh.
Ricky Gervais has been busy in the past week. Not only has he been promoting his new Netflix film Special Correspondents, but he has been working on the final mix of the forthcoming movie about his most iconic creation, David Brent.
He tweeted about the progress on Life On The Road, explaining it was nearly done bar a few sound corrections, and took the opportunity to share the very first review of Brent's original comedy vehicle, the outstanding The Office.
Final mix on #LifeOnTheRoad this week to complete the #DavidBrent story. Here's the first ever review of The Office https://t.co/pA85m6dHl7

— Ricky Gervais (@rickygervais) May 3, 2016
These days, The Office is widely accepted as a true modern classic, and so you might expect the review by the Evening Standard's Victor Lewis-Smith from 2001 to be a gushing tribute to its obvious genius.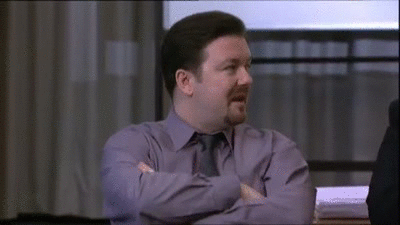 In fact it is anything but. Instead it reads as a stinging hatchet job, criticising the series as a sad indictment of British comedy. Little did Lewis-Smith know that it would go on to achieve critical acclaim the world over.
You can read the full review here on Gervais' blog, but there are a few priceless nuggets:
"It aims to capture the tedium and monotony of a nine-to-five existence, and to lampoon the pompous imbecility of the office wag, but fails miserably because parodies of dullness only succeed when they're shorter and more exaggerated than their original models."

"In case the likes of Mike Leigh and Caroline Aherne have deluded you into thinking that it's easy to capture naturalism on TV, then a few minutes in the dubious company of Ricky Gervais and his colleagues will soon set you straight."

"Gervais may be a patchily amusing stand-up comic, but he's clearly neither an actor…nor a dramatic writer…and before long I found myself shouting at the screen: "What did you do with the money?""

"How this dross ever got beyond the pilot stage is a mystery, while over on C4 they're showing five-year-old repeats of Brass Eye, starring a 40-year-old enfant terrible who's still playing his schoolboy pranks in hopes of riling the ITC…"