When you think of Roscommon, you may not automatically think 'staycay'. I'm here to change your mind on this.
I recently had the privilege to visit the Hidden Heartlands and explore everything from its beautiful scenery to cosy accommodations, rich history, and incredible food.
Trust me, I know the allure of travelling abroad is one that is strong. But what we have here in Ireland, often hidden in plain sight, can offer the same – if not more – to our holiday needs.
Based on my adventures around Roscommon, I have been able to compile a list of hotspots and recommendations within Roscommon that will make your next staycation in Ireland one to remember.
Accommodation
This little gem is a 90-minute drive from Dublin and one hour from Galway and Sligo, meaning you don't have to travel far to find yourself soaking up the relaxation of The Abbey Hotel.
This 18th-century hotel stands tall with hundreds of years of history. It is a turreted mansion that was originally a private house owned by the Burke family, then by the O'Connor family. The Grealy family took over the Abbey in 1872, and it was called The Coach Inn.
With its exceptional location, Georgian decor, and award-winning restaurant, this stay deserves a high spot on your list if you're contemplating a stay in Roscommon.
While staying at the Abbey Hotel, a stroll to the ruins on the gothic grounds is a must.
This beautifully haunting piece of history is the resting place of the Abbey's founder, Felim O'Connor, and is situated right on the back door of this charming hotel.
This hotel stands out as the highlight of my trip to the Hidden Heartlands. The Kilronan Castle is beyond romantic and special, one that you would return to again and again. It is the type of hotel where you would have no trouble understanding why a person would want to plan an entire engagement around it.
The breathtaking views and bedrooms are unmatched in terms of luxury living, with three walking loops to avail of that each include incredible views along the way.
Everything from the staff, food, dining areas, and leisure centre is designed to make you feel that you finally know how the other half lives, with every detail carefully considered and perfected.
This is an estate you come to stay at when you have cause for celebration, and the uplifting yet relaxed energy reflects it.
I had the best sleep I have ever had here in their plush bedding, and I would move in a heartbeat if they allowed me to.
Core memory: doing a back stroke in the hotel's magnificent pool in their leisure centre. The ceiling resembles a starry night and the levels of relaxation I felt during this swim will be a high I will chase forever.
History and Activities
Roscommon holds an interesting, long, and rich history that double can double an activity when visiting the county.
This immersive experience overlooks one of the most beautiful views in Ireland. Underneath, within the mines, is another story.
During this tour, you get to see firsthand how the miners of the Arigna Mines worked—how each day started, ended, and everything in between—from intricate tunnels to extraordinary work systems, veritable tools, and the astounding routines of the workday.
The story about the exhausting labour carried out by the coal miners is one of importance, one that will make you thank your lucky stars every morning your alarm goes off.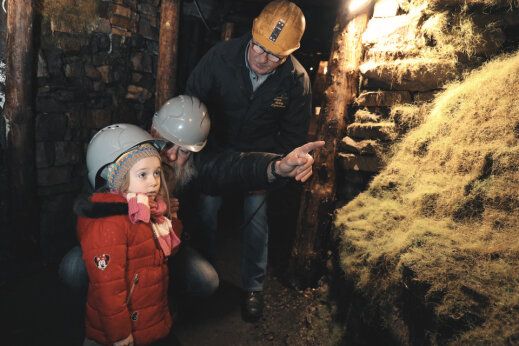 Maurice Cullen, our tour guide and ex-miner at Arigna, brings guests along on a walk down his own memory lane. Having called the mines his workplace for close to two decades, nobody knows the ins and outs of them in more detail.
He deserves a special mention for his knowledge and thorough guided tour, answering every question that came his way with brevity and detail.
Top tip: wrap up warm, it's cold down in the mines, which just adds to the story of the miners workday.
Strokestown Park House & Famine Museum @strokestownpark
I left the Strokestown Park Home and Famine Museum with much to think about. The astonishingly well-preserved and historically rich part of Roscommon is one that provides so much conversation after you part ways with the tourism hotspot.
We took a one-on-one guided tour of the historic Georgian mansion, a time capsule that reflects the real details of life in the country house, and learned about the families who resided there in years gone by.
The Famine is a part of Irish history that many, if not all of us will have learned about in school, through our family lineage, and stories passed down.
Seeing it up front with voices from the Famine, both national and personal, and digesting the incredibly put-together remnants of the past and information that the museum has laid out is a thought-provoking and powerful way to spend an afternoon.
Side note: the tour guide has a wealth of information. Questions are very much welcomed and encouraged.
This unique and quirky activity is one you need to include on your Hidden Heartlands bucket list. Visiting the Knockvicar Alpaca Farm is something the whole family can enjoy and learn from.
We met with Andy and Antonio, who introduced us to their entire pack of alpacas, each with their own names and individual personalities.
Farm visits include more than a meet and greet with these amazing and exotic alpacas; you also get to feed them and learn about fleece production using alpaca wool.
This is a remarkable way to get outdoors during your time in the Hidden Heartlands and learn all about the special creatures who call it home.
Side note: ask to meet the alpaca named Paddy, he evokes cuteness aggression I've never experienced before.
Dining
For me, visiting a new place can bring a slight anxiety, as choosing where to eat can be daunting, as I always fear the 'what if?' around having to pick just one restaurant.
Luckily, Roscommon has plenty to offer. Here is a narrowed-down list that promises to deliver on taste, ambience, and affordability.
A gorgeous and bustling spot to grab lunch while in the town centre. Rogue & Co. is a hive of conversations and good food. Everything served in this cafe is cooked with locally sourced ingredients.
The menu is lengthy with plenty of choice and options, from the most experimental to the pickiest of eaters.
Bonus: Rogue &Co. overlooks the Main Street for those who enjoy a spot of people-watching.
If I had to pick my favourite dish of the weekend away, The Purple Onion takes the crown. This is an artsy, cosy, and unique restaurant that even has a gallery upstairs to digest talented works after your meal.
The menu is divine and not so long that you find it hard to make up your mind, and it is always changing to keep things fresh, much like the ingredients used.
You can purchase an array of wines, sauces, chocolates, cheeses, and more from the front of the restaurant, which is just a genius idea. Loved the wine at dinner? You can purchase it and bring it home.
The staff at the Purple Onion were super friendly, and the service was top-tier, which always makes for a more elevated and relaxing dining experience.
We ordered the chicken risotto and steak and couldn't help but share each other's plates, trying to decide which was tastier. We could never agree, as they were both utterly divine.
The Purple Onion makes for the perfect date night outing.
Waterfront Restaurant
The Waterfront Restaurant provides modern Irish cuisine in a beautiful and zen setting overlooking the River Shannon.
This one is a special location to enjoy delicious food and a relaxing environment simultaneously.
This one, for sure, should be one to include on your travels in Roscommon and is well worth the journey to take in the scenic views.
A must have: I'm still thinking about the Hazelnut and Oreo cheesecake from the Waterfront. I highly urge you to indulge while dining here.
Roscommon should not be overlooked during your next annual leave or weekend getaway
Before I found myself in the Hidden Heartlands, I will hold my hands up and admit that I have allowed this gem to fall to the back of my mind when planning a getaway.
The fact is, I was so impressed by my time away that I would return in the future, as it now holds, for me, special memories born solely from what Roscommon has to offer.
What can't be broken down into recommended bullet points are the gorgeous views seen from the car as we drove from place to place, the friendly locals and staff in each location, and the individual feelings brought on from the learning, relaxing, and exploring of this county.
You can find more on the 'Land of Memories' here.
READ MORE: