Kodie Murphy joined Love Island as a Casa Amor bombshell.
Love Island viewers are calling on producers to remove Kodie Murphy from the show after he was accused of homophobic abuse.
The Casa Amor bombshell joined the show over the weekend, but viewers slated the show after a former classmate claimed Kodie bullied him.
In a now-deleted tweet, a former classmate of Kodie's said he bullied him in school.
They wrote, "What a way to end pride month, a boy who I went secondary school with who bullied me for being gay is put on love island."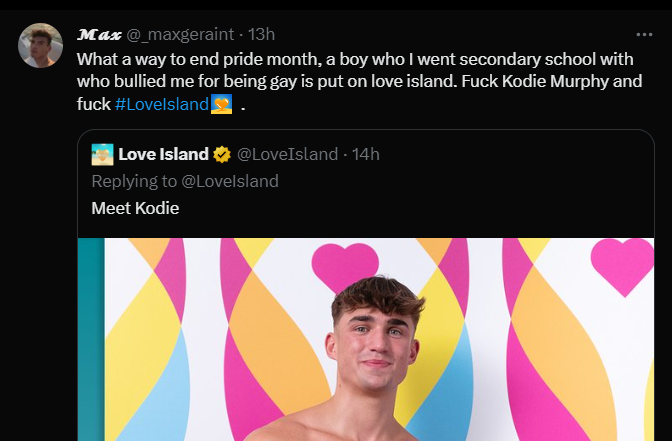 Another added, "I second this. I've seen it happen from Kodie."
One fan wrote, "Get that bully off your show. F**k Kodie Murphy. Love Island is everything wrong with today's society."
Another said, "Well-known homophobe and bully. Get him off the show."
Love Island has not yet responded to viewers' concerns.
Speaking ahead of his Love Island debut, 20-year-old Kodie said: "I can't wait to bring my flirty, cheeky side out. There isn't as much pressure when you go into Casa Amor, you can go in and have some fun. I'll definitely be a little mischievous."
The social media marketer described himself as "cheeky, charismatic, enthusiastic, and a bit of a charmer".
He added. "I'm going to go in there and be my big, bubbly, cheeky self – I definitely know what I want. You have to lay it on a bit thicker in Casa Amor than the outside, which will be different for me but I am confident in approaching things."
READ MORE