A wedding has been held in Bewley's cafe
A Dublin couple has tied the knot in Bewley's cafe after meeting in the iconic landmark on their first date.
Sarah Brittain and Luke Carton from Perrystown, are the first couple to tie the knot in the Grafton Street spot in 20 years.
Sarah and Luke first met as children in the early 90s when both of their families were attempting to adopt Romanian children.
She explained that they decided to ring Bewley's to see if they could get married at the cafe.
Luckily, the team at Bewley's Grafton Street said yes and helped the pair plan the wedding of their dreams.
"We really wanted to do something special for our wedding and we rang Bewley's more in hope than expectation after a friend said they might go for it," said Sarah.
"We thought they might think we were nuts, but they said yes and within a short space of time the plans were being laid for the first Bewley's wedding."
The venue hosted the full ceremony and reception for 90 people upstairs in the cafe.
It was such a success that Bewley's are now taking bookings for further weddings and other private events at the historic venue.
Luke and Sarah met when their parents signed up to adopt children affected by the "horrors of Ceausescu's orphanages".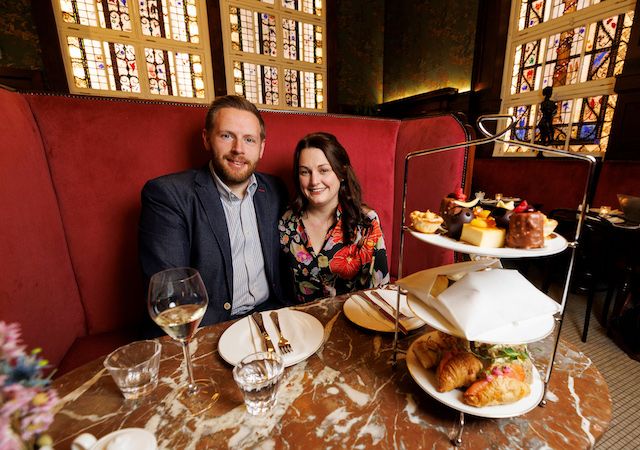 Luke eventually plucked up the courage to ask Sarah out on a date when they were 18.
The 18-year-olds agreed to meet on neutral ground in Bewley's for their first date on June 15th, 2003.
Bewley's has been a magical place for the pair ever since.
"Getting married here was a fantasy of ours, and it went like a dream. The whole staff got behind it and it was like we had another family putting on the day," Sarah shared.
The two children that the families adopted – Luke's brother Aaron and Sarah's sister Anna were witnesses at the wedding.
The couple were also walked down the aisle by their three children Harry (11), Ollie (7), and Milo (3).
The cafe went the extra mile this week and invited the newlyweds to experience afternoon tea at the Café.
Bewley's Afternoon Tea Experience can be booked at bewleys.com.
READ MORE: