Last month, our Snapchat feeds were flooded with images of friends, followers and celebrities vomiting rainbows, pulsing heart emoji eyes and super-imposed monocles.
The initial seven strangely addictive animations made their way into our selfie game, but have since been deleted from users' apps.
Each day, different lenses will be added and deleted and there's no telling when your favourite (or creepiest) lens will go.
While they might still re-introduce them permanently (we can only hope), a new hack means one simple swipe of your phone settings could have you back in action.
Tackling the little conundrum, Mashable discovered that a little game of time travel (and playing with your phone settings) will help bring your Snapchat lenses back to life.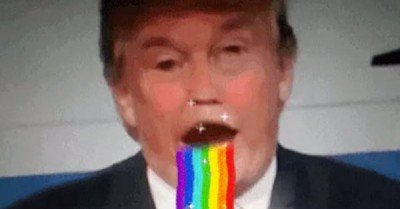 Image: Trump via lolworthy
Want in on the secret?
Simply go into your phone's 'Settings', and go into the 'General' tab. Select 'Date and Time' and switch the 'Set Automatically' button off.
You can then manually enter your phone's date – which means if you noticed your lens has since disappeared, just enter a date from a week or two before to restore that rainbow love to your Snapchat account.
Mashable tried and tested their theory and discovered by setting your phone to September 15th (the day the lenses appeared) you can access all the originals.
Tired of these lenses? Switch your phone's date back to automatic and your Snapchat will go back to featuring current lenses.
Who needs a time machine, eh?
H/T Mashable