The Total Recall premiere will see all of the big stars of the film walking the red carpet according to reports today.
Taking place next month at the Savoy Cinema it has been claimed that Colin Farrell, Jessica Biel and Kate Beckinsale will all be there.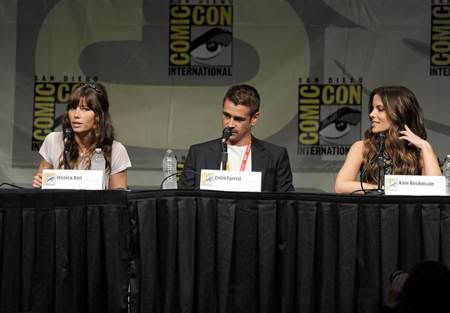 Jessica Biel, Colin Farrell and Kate Beckinsale at this year's Comic Con.
Beckinsale's hubby and director of the film remake Len Wiseman will also be in attendance on the night.
Leading man Colin Farrell is said to be the man to thank for the influx of stars. A source told the Irish Daily Star that the Irish charmer 'was very specific that the premiere happened here with the film talent.'
Heartthrob Colin Farrell plays Quaid in the remake of the film.
Total Recall is a sci-fi thriller about a man who suspects he is a spy after going to a company that implants memories into peoples' brains. The orginal film starred Arnold Schwarzenegger and Sharon Stone.