Miss Ireland Rebecca Maguire is currently making her way across the globe for the Miss World pageant in China.
The 20 year old girl from Belfast is hoping to clench the Miss World title and follow in the footsteps of fellow Irish model Rosanna Davison.
Rebecca Maguire scooped the Miss Ireland title and now is off to the Miss World pageant.
Rebecca has been working hard for this moment as she told the Irish Daily Star: 'I have been putting in a lot of work over the past few weeks to prepare for the contest – so I hope it goes well.'
It has been quite a shift in direction for the Queens student who has gone from studying pharmacy to strutting her stuff on the catwalk. But with that smile and hair like her style icon Kate Middleton her chances are good as anyone's.
Despite this Rebecca seems determined to stay grounded and admits that the competition is high in this year's contest.
'I had a look at the girls and, to be honest, they're all beautiful and I couldn't pick one out myself.'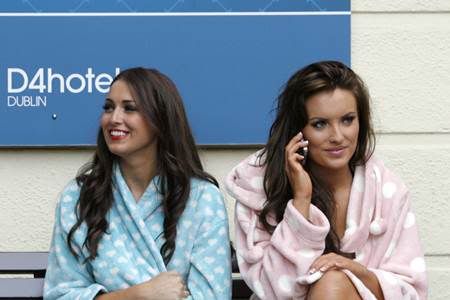 Rebecca looking gorgeous while chilling with one of the other girls during the photo shoots.
As well as the Miss World crown there are other titles up for grabs in China including beach body, top model, fitness, talent and beauty with a purpose.
Whatever the outcome the Miss Ireland stunner expressed her excitement about the trip on Twitter calling it 'an experience of a lifetime.'

Rebecca is clearly excited about heading off to China with the other contestants.
On behalf of the Her.ie team, good luck Rebecca!